We're very excited to announce that The Altitude Centre's heat chamber is now live, and available to book.
We've all competed in hot environments, and seen for ourselves the impact that the heat has on performance. Now, our heat chamber at 50 Gun Street becomes the first publically available heat chamber in London, giving you the chance to prepare your body for the heat and perform at your very best in hot conditions.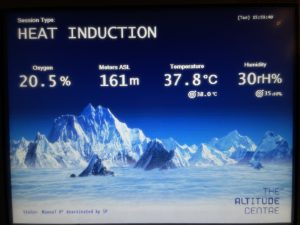 To find out more about heat training, how it works, and whether it's right for you, check out our blog post on all things heat here. To get your heat acclimation sessions booked in, click through here or contact the team on [email protected] or 02071931626.