It's finally here! The London Marathon is back, and thousands of runners will be taking to the streets of London in October 2021, 18-months after many had planned to run the postponed 2020 marathon.
It's been a really tough training period, with many preparing for the same marathon three times over – but now is not the time to let all that hard work slide.
We're bringing in the Marathon Booster Programme this year, to help get you over the line and race ready come the 3rd October.
Altitude Training & Marathon Running
Altitude training and marathon running go hand in hand. They have done for a long time, and will continue to form a key component of elite marathon runners programmes. But how can it help the first time runner, or the amateur athlete looking to shave minutes off their PB?
We took a number of non-elite runners, and ran them through a booster programme. We saw up to 15% improvements in aerobic performance over the course of their programme, which contained some passive IHE sessions, and their training sessions in the chamber. It culminated in no more than 3 sessions a week, and those sessions were often combined, meaning you can see serious improvements in as little as two visits a week.
Training Sessions in the Chamber
Our coaches will lead you through interval training sessions at 2700m in group sessions, or you can come in in your own time to complete the programmed sessions at a time that suits you. If you are taking it easy on the running, utilising the cross training effects of the Wattbikes is a great way to maximise altitude gains, and minimise risk of injury. It's about getting two good quality training sessions done in the chamber each week.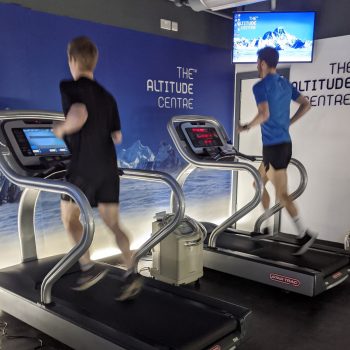 IHE Sessions
The IHE sessions are a real game changer. How to maximise recovery, and improve performance, all without moving a muscle. We recommend completing your IHE sessions the day or two after your long runs, to help aid recovery. The session promotes increased oxygenation and blood flow of the tissues, which helps to improve recovery time, and keep your legs feeling fresh for longer.
As we approach the taper phase, these will also be vitally important to maintain your altitude improvements as you ease off on the training slightly. Keeping your performance levels up, while reducing the stress on the legs that will carry you the distance come race day.
What is in the Marathon Booster Programme?
In as little as 4-weeks, we've seen runners make big improvements in performance. To make the most of the programme, you'll have up to 6-weeks to push your performance levels before race day, and unlimited access to The Altitude Centre.
The programme includes unlimited IHE & altitude exercise sessions (within reason – we don't want you over training!), and our coaches will be on hand to help you plan your training diary around your work/life schedule, and your weekend long runs as well.
How much does it cost? 
We are offering unlimited access for just £150. Under the membership, you'll be able to access the chamber for Solo's & Group Sessions, as well as having full access to the IHE POD right up until race weekend.
How do I sign up? 
Just fill in the form below, and our team will give you a call to discuss, and get you started!