The Beijing 2022 Winter Olympic Games will live long in the memory for a vast array of reasons; not least because of the incredibly high performance quality of the greatest snowsports athletes in the world. While many where mourning Shaun White's final games, or heralding the new era of Eileen Gu in the halfpipe, my own sporting eye was drawn (as ever) to the endurance events, and in particular Cross Country Ski-ing and Biathlon.
For those unfamiliar with the endurance sports at the Winter Games, cross country ski-ing is (according to Wikipedia's own definition) "a form of skiing where skiers rely on their own locomotion to move across snow-covered terrain, rather than using ski lifts or other forms of assistance." Athletes may race in so called 'sprint' events which last between 2-3 minutes, up to the gruelling long distance mass start races, topping out at 30km for women and 50km for the men. Biathlon is essentially cross country ski-ing broken up with short stops for rifle shooting, making it perhaps the ultimate physical and mental test, as any missed targets result in time penalties or penalty laps being undertaken.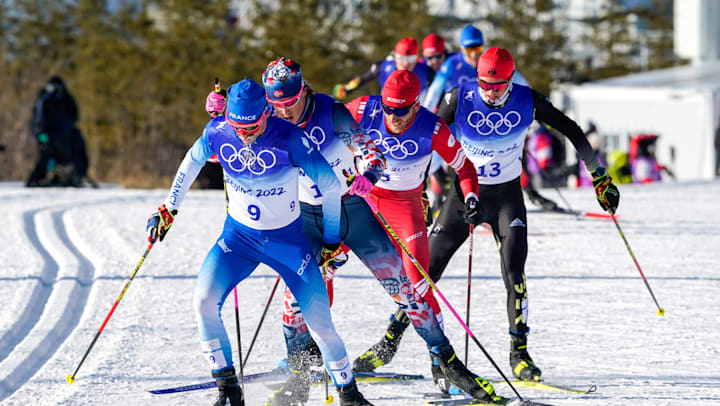 To prepare for the high expectations of a home games, the Chinese National Cross-country Ski Training Team
completed a big block of altitude training during the 2020–2021 snow season, the nature and results of which were recently published in the journal, Applied Sciences.
What They Did
Briefly, 28 athletes (20 male, 8 female) from the national cross-country ski training team trained at the national snow sports training base in BaShang, Chengde, Hebei Province, at altitudes between 1510–1700m. This is a classical level for live high train high type altitude training. During this time, all training was conducted at altitude, which means low intensity, long duration endurance work, high intensity interval training, and strength training. Before, during, and after the training block, athletes were monitored for their physiological response to training, as well as their submaximal and maximal performance indicators.
What They Found
In terms of athletes' physiology, as expected during prolonged altitude sojourn, both male and females increased their red blood cell count and haemoglobin mass, indicating that their ability to carry oxygen around the body improved over time. Interestingly, whereas these parameters increased from the first month in female athletes, the male athletes showed more fluctuation in the first three months before a more sustained improvement, demonstrating that they perhaps required longer exposure times to elicit the gains from altitude training. Interestingly, cortisol levels were higher in females throughout the study, perhaps indicating that the altitude exposure elicited a greater stress on the body, and potentially accounting for the increased response to altitude.
However, you don't win gold medals for having the most red blood cells. You win gold medals for having the best performance, so it's the performance testing that's most interesting here. Submaximal performance testing indicated that, following training, any given submaximal intensity was less physiologically demanding than it was before. That is, to ski at the same speed elicited a lower heart rate, lower blood lactate concentration, and lower rating of perceived exertion after training than it did before training. This was reflected in faster performance times, with the time taken to complete a 10km time trial (running) improved by around 2.5 min in both males and females.
Given the already high level of performance of these athletes, such improvements may otherwise be hard to come by. Thus, the application of a specific altitude training block in preparation for the games was seen as important to improving the physiology and performance of such elite level athletes.
While being in the mountains was clearly important for cross country ski-ing athletes (after all, that's where they need to be to train on snow), for many of us, being away at altitude for such an extended period of time simply isn't possible. Where that's the case, many athletes instead choose to use simulated altitude to reap the performance benefits of altitude training without disruption to their daily lives. For example, sleeping in an altitude tent has been shown to help accumulate sufficient time at altitude to significantly improve physiological and performance parameters in elite athletes without having to move to the mountains for months at a time, and so many now consider that the gold standard of altitude training. Indeed, we currently support a number of elite athletes in their at home altitude training, and now the same technology and expertise is available to athletes at all performance levels. To find out more about incorporating altitude within your own program, get in touch below.